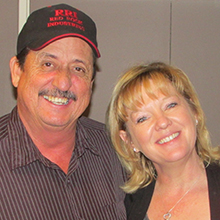 Mylynda and Mike Embrey own RedRock Industries, a division of RRI Enterprises LLC. The family-owned precision manufacturing company provides wholesale products to the oil and gas industry, the die mold industry and many others. In September 2012, Mylynda's came to the North Central Texas College SBDC for assistance in writing a business plan for the purpose of obtaining funding to expand the business.
The SBDC Director, Cathy Keeler, assisted Embrey in writing the plan and preparing the financials. Keeler provided industry, company and business research reports from IBIS World and Reference USA. Once the plan was completed Embrey's banker visited the business site. Because he was so impressed with the organization of the business and with the business plan in place, the Banker approved the loan. Over the past two years RedRock Industries has received over $290,000 in funds.
SBDC (through the Jobs Act Grant) provided a web designer to work with Embrey to develop a website for the business. Embrey states the website is an excellent marketing tool to which the increase in business they are experiencing is directly attributed.
Embrey was provided a QuickBooks consultant for hands-on assistance in some specific areas in which she needed knowledge for better invoicing and record keeping.
In December 2013, Embrey once again called the SBDC for assistance in finding a new health care plan. Because of the Obama Care program, the business's current health insurance company would not be providing coverage after March 2014. Various health provider sites were provided to Embrey to check out to find one that best suited the business's needs.
The company currently has 10 full time and 4 part-time employees. The business growth pattern is showing a 30-38% increases each year. Last year, 2013, was the best year yet with a 79% growth in sales, showing over a million dollars in sales for the first time.