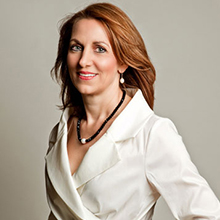 Margaret first met with the Collin SBDC in March 2010 needing help performing a feasibility analysis on this business idea. She was not sure if a passion for giving could result in a successful business model, so the Collin SBDC helped her with projections and business planning. Within two months, the Collin SBDC not only assisted her in starting her business, but they helped her close $25,000 worth of business. Today, through marketing, sales, accounting and management assistance, Margaret Palmer Jewelry has seen sales of over $500k in her four years of business.
The jewelry company was started with the goal of raising as much awareness and funding for every cancer as has been done for breast cancer. Margaret started the Cancer Pearls Collection to create beautiful, conversation-starting jewelry that would help in the fight against cancer through education and fundraising. Her bold, luminescent pearls represent each color of cancer. Margaret donates 15-20% each sale to various cancer causes.
The most important factor in Margaret's business is her overwhelming passion and enthusiasm in her goal to make a difference. She has dedicated her exquisite jewelry business to raising funds for charitable causes. Margaret Palmer believes a small business can have an amazing impact in the lives of others.
As one of her customers wrote in a thank you letter, "It's rare that one comes across someone like you … who places others as beneficiaries of their profits."
Margaret Palmer Jewelry is proud to have been selected as the Super Bowl XLV Business Leadership Forum 2011 Impact Award recipient in the area of Social Responsibility. In addition, Margaret Palmer Jewelry supports 20+ charities, donating beautiful pieces of jewelry and support for fundraising events. Margaret has joined the National Marrow Donor Program, designing a line of jewelry that represents the awareness project that is so vital to the Foundation's efforts. A portion of the proceeds from the sale of the "Be the Match" jewelry line benefits people with life-threatening blood cancers like leukemia and lymphoma or other diseases.