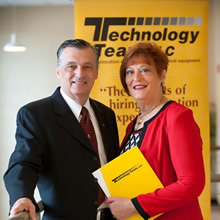 The Tarrant SBDC not only reaches entrepreneurs just entering the small business community, but continues to build long-term relationships with existing clients. The mission of the Tarrant SBDC is to help businesses through all phases of their life cycle; i.e. pre-venture, start-up and growth. While some clients only use the Tarrant SBDC services during one phase of their business, others, such as Technology Team, LLC, have availed themselves of the Tarrant SBDC counseling, training, and partnerships through the life of their company.
Technology Team came to the Tarrant SBDC in February 2003, looking for help on NAICS codes. The Tarrant SBDC team worked with Technology Team President, Sherry Green, in finding the right classification code for their new industry. Technology Team, LLC provides relocation experts for mission critical equipment, and was a pioneer in this market segment. Robin continued working with Sherry in providing marketing research on direct competition, used by Sherry in develop a marketing strategy.
Technology team members, such as Sherry, and Vice President Allen Spinner, took advantage of our training options, and attended classes including the IRS Small Business Tax Workshop, HR For Small Business and Legal Forum. According to Sherry, the most helpful and informative of all the classes was FastTrac Growth Venture, which was well worth her time and effort in attending. FastTrac Growth Venture is an extensive, ten week program to educate new business owners on topics such as business and marketing plans, branding and incorporation.
The Tarrant SBDC provided additional guidance and counseling as time went on, with Sherry capitalizing on the experience of Cle Royal, Deborah Liptak, Myron Pullum and Cynthia Harnest. According to Sherry, they have never been disappointed in the knowledge, expertise and suggestions provided by these counselors. Sherry acknowledged that our counselors have proven themselves to be "a wealth of knowledge and a great counselor in some of the struggles we have experienced as a growing business."
One instance, related by Sherry, related to a name infringement law suit. "We immediately called David Edmonds, then Director for the Tarrant SBDC, for advice. He referred us to an intellectual property specialist in the NTSBDC network. That counselor outlined our options and helped us discover a clause in our insurance that would help protect us if the case actually went to court. He also explained what type of documentation would be needed to win the case. Because of the advice we received, we were prepared to stand up to the company making the claim and gathered the data we needed to prove that the name was rightfully ours. The lawsuit was dropped and Technology Team retained its name!"
In January 2012, Technology Team, LLC, celebrated its eighth anniversary. In the years since Technology Team opened their doors, the Tarrant SBDC has been on hand to provide support and services as needed. "It is sometimes difficult finding valuable resources to aid businesses in their development. The Tarrant SBDC made the process simple and rewarding. We are fully aware that our accomplishments are not simply attributable to "genius" leadership or hard-working employees. We grew and prospered only because we found some great friends like the Tarrant SBDC, who gave us loyal support along the way."
It is always rewarding to watch a business grow from a concept to a viable business enterprise, and to know we were able to help make that dream a reality.