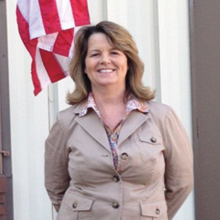 Shawn Dollar is President of Sturm Welding, Inc., a Pilot Point, Texas based Metal Fabrication and Welding business. Shawn has owned the business since 1998 and eventually took over the role of President in 2008.
Sturm Welding's beginnings date back to the Butterfield Junction Stagecoach Line when it was a blacksmith shop and livery stable. It has evolved into a thriving business which serves a diverse customer base including local farmers, ranchers, do-it yourselfers, contractors, commercial accounts, municipal and federal markets.
Under Shawn's leadership, and with the help of the Small Business Administration and the Government Contracting Small Business Development Center, the core customer base has evolved from primarily farmers and ranchers to numerous commercial and civil accounts. The development of these accounts has been aided by certifications in the SBA's 8(a) Program, State of Texas HUB and NCTRCA's DBE. In 2013, revenues increased over 25 % over last year. This growth can be directly attributed to the SBA's 8(a) program which Sturm Welding participates in. From September of 2012 thru October 2013, Sturm Welding was awarded six, 8(a) set-aside contracts with the Army Corps of Engineers. This work ranged from building pedestrian bridges to repair and maintenance of area lakes outlet work construction. As a result, Sturm was able to create five new jobs and retained eleven jobs.
Shawn attended college at the University of Houston, is a graduate of the SBA's 2012 Emerging Leaders Program and a member of Pilot Point Chamber of Commerce, She is a wife, mother, and grandmother. Outside of work, her passions include family, cooking, motorcycling, gardening and shopping.