---
North Texas SBDC announces Beverly Austin
as 2012 State Star of the North Texas SBDC
---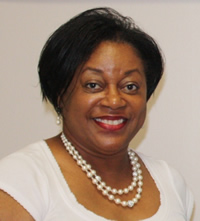 Our business advisor's commitment to serving entrepreneurs is our greatest asset. To showcase the achievements that result from this dedication, the North Texas SBDC presents the State Star Award.
Beverly Austin has served as Business Advisor within the North Texas SBDC Network since 2009.
The Northeast SBDC is hosted by Northeast Community College and serves Bowie, Camp, Cass, Franklin, Morris and Titus Counties. The State Star Award acknowledges extraordinary efforts to achieve and support the goals and mission of North Texas SBDC Network. The award is given to recognize service excellence in the following areas:
Exemplary performance and commitment to small business
Demonstrated economic development achievements
Significant contribution to the Network program
Dedication to furthering North Texas SBDC's mission
Beverly met the challenge of achieving the goal of re-branding the center from pre-venture service to providing quality resources for growth companies. Beverly's targeted services accelerated business growth for entrepreneurs in Northeast Texas counties resulting in the the increase in economic accomplishments for the Northeast Texas SBDC by 100%.
In her two plus years with the SBDC, Beverly created and retained over 75 jobs and reports over 9 million in capital infusion on behalf of her clients. She is a visionary and an extremely valuable asset, injecting her synergy and creativity into every process.
The North Texas SBDC strives to be the driver of small business economic impact in the communities we serve and Beverly embodies this philosophy.
We salute Beverly for her commitment to small business, the community she serves and her performance excellence!